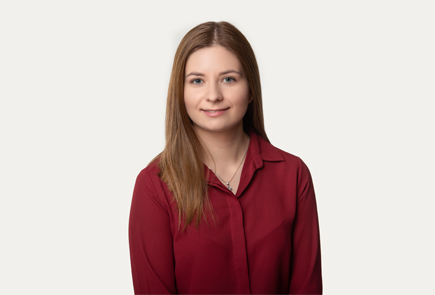 Dagmara Dragan
Lawyer
A graduate of the Faculty of Law at the Adam Mickiewicz University in Poznań. Dagmara is also a PhD student at the Department of Administrative and Administrative Judical Procedure at the same institution. She has also completed post-graduate studies in the field of German law. Her interests focus on administrative law, in particular energy law and environmental protection.
Dagmara has built-up her professional experience at Wawrzynowicz & Wspólnicy, with whom she has been associated since 2016 and, prior to this, at 'Operator Gazociągów Przesyłowych GAZ-SYSTEM S.A.', where she prepared legal analyses on ​​issues and changes related to the operation of entities from the energy sector. She has participated in the preparation of legal analyses connected with gas storage, electromobility and the MIFID II package. She has experience related to the preparation of 'Low-emission Economy' plans for several municipalities in Poland. She also completed an internship at the Public Procurement Department of the City of Poznań. Dagmara also specialises in legal advice on personal data protection.
She won first place in a competition thesis organized by the Supreme Administrative Court for the best master's thesis for her work entitled "The specificity of the proceedings regarding the issue of a decision on the environmental conditions for the implementation of the undertaking for infrastructure investments in the energy sector". She is also a winning student in the National Competition for Environmental Protection Law organised by the Faculty of Law and Administration of the University of Bialystok and a two-time finalist in the National Competition of Public Economic Law organised by the University of Maria Curie-Skłodowska in Lublin. Dagmara is an active member of the Academic Society of Energy Law and Sectoral Regulation operating at the Faculty of Law and Administration of Adam Mickiewicz University in Poznań. She is an Alumnus of the Fundacja im. Lesława Pagi Energy Academy. She is the organiser of numerous conferences and scientific seminars, including the third edition of the "Energy Law" competition organised within the National Competition on Energy Law, as well as a conference entitled "Legal regulations in the field of renewable energy sources in Poland and Germany" (April 26-27, 2016).