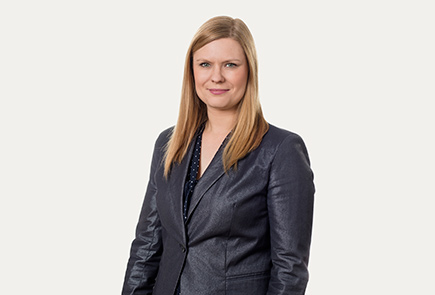 Karolina Jarońska
Attorney-at-law
Legal Counsel and a graduate of the Faculty of Law of Poznań Adam Mickiewicz University with many years of experience in providing legal services to public-finance institutions and energy companies, particularly in public procurement and the implementation of investments financed from public funds, including EU funds.
Karolina advanced and evolved her professional experience advising public-finance institutions and energy and gas companies in cooperation with some of the largest Polish law firms. As part of this cooperation, she provided legal support for over 200 public procurement procedures for contracting entities operating in the areas of sport and recreation, entertainment and culture, waste management, and public road management, including projects co-financed from EU funds. She also participated in conducting audits of EU co-financed projects on behalf of the Ministry of Investment and Development.
Karolina repeatedly represented contractors and contracting parties before the National Chamber of Appeal. She also participated in legal consultancy for companies belonging to the ENEA capital group within the framework of investments carried out by these companies (including Construction of a 1075 MW Power Block in Enea Wytwarzanie sp. Z o. O. ).
Her court experience has included representing a leading insurance company in court disputes related to the insurance business conducted by the company.
She is the author of publications on ​​public procurement and construction investments by public-finance institutions.