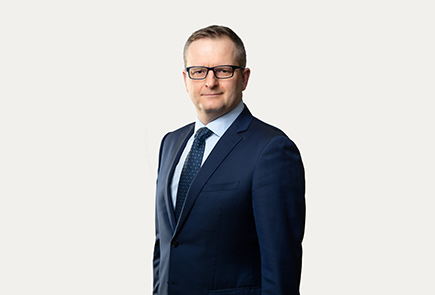 Marcin Skorb
Attorney-at-law
Legal Adviser, graduate of the Faculty of Law of A. Mickiewicz University in Poznań and past experience for 8 years as assistant in the Department of Economic Law of Poznan University of Economics.
Marcin has extensive experience in providing legal advice to property management entities (including international entities) as well as housing communities and property owners. He specializes in real estate law, including legal aspects of land easement such as transmission easement and issues concerning the location of power lines.
Past professional experience includes dealing with issues in the field of insurance and financial law, as well as personal data protection law. He provided legal services to Bank BPH S.A. and Bank PKO S.A., including the Corporate headquarters. He also conducted training courses in insurance law for employees of PZU S.A.
He has several years of experience in conducting court cases in the field of civil and commercial law and enforcement proceedings, including real estate enforcement.
He participates in the activities of the Bar Association of Advocates and he is vice-chairman of the Audit Committee of the Regional Chamber of Legal Counsel in Poznan.