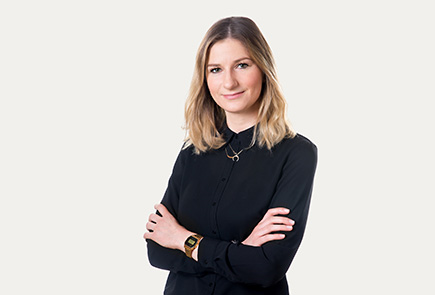 Martyna Muraszko
Attorney
A graduate of the Faculty of Law and Administration, as well as the Faculty of Social Sciences at the University of Adam Mickiewicz in Poznan. Member of the Wielkopolska Voivodeship Bar Association in Poznan.
Martyna has been associated with the W&W Law Firm since 2021. She has gained professional experience in law firms in Poznan, where she provided legal services to Polish and foreign entrepreneurs, as well as providing legal assistance to individuals. She has also completed numerous internships in Poznan courts and prosecutor's offices, as well as an internship at BSB Solicitors in London.
She specializes in civil and commercial cases, primarily in their procedural dimension. She also has extensive experience in handling family law cases and in representing clients in criminal proceedings, acting as a defense attorney both at the stage of preparatory proceedings and before the court.
Within the W&W firm she supports and represents clients at all stages of court proceedings and in the course of proceedings before public administration bodies.