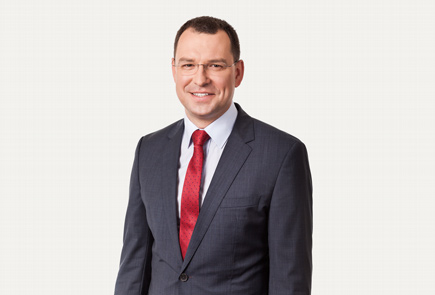 Adam Wawrzynowicz
Attorney-at-law
Adam specialises in providing legal assistance to companies operating in the energy and telecommunications market, including companies operating in the gas, electricity and heating sectors.
Adam has experience in both advising on regulatory issues (proceedings before the President of the Energy Regulatory Office) and consulting on other spheres of business activity (including consulting related to IT and the implementation of ICT systems, commercial transactions, and public procurement). He has provided legal advisory services to the largest gas system operators in Poland as part of projects concerning, among others, the security of natural gas supplies to Polish, the support system for the LNG Terminal in Świnoujście, and the issue of mandatory gas stocks. He advised on the consolidation of distribution companies in the PGNiG Group and on the project of separating the distribution segment from the PGNiG capital group and appointing PGNiG S.A. as the storage system operator. He participated in the work on the development of the concept of adapting the model for the functioning of the Storage System Operator according to the assumptions resulting from the Third Energy Package. He is the co-author of the assumptions for the draft Gas Law Act prepared at the request of the Chamber of Commerce of the Gas Industry. He has advised on projects in the field of telecommunications, renewable energy and infrastructure investments.
He has supervised legal advice related to the development of draft basic documents regulating activities in the sector of the storage and distribution of natural gas – Regulations for the provision of Storage Services and Instructions for the Operation of the Distribution Network. He has represented key companies from the PGNiG Group in concession award proceedings, tariff proceedings and in proceedings for the designation of gas system operators.
Adam is a member of the Energy and Gas Market Consultative Team at the Chamber of Commerce of the Gas Industry.